Introduction
Academic

JK/SK Morning Programs

Policies

Our Facilities

Additional Information
About Us
Kendellhurst Academy is a private preschool founded by John Kendell and Paula Carrasco-Kendell. As parents, we wanted a warm, nurturing environment with attention to personal, academic excellence for our children. We offer our families a small, boutique type school setting with attention to detail. From an organic content menu and yoga lessons to tailored academic and signature programs, we've created a superb setting for your child to flourish! Kendellhurst Academy is a preparatory school developed to provide parents with an alternative to Montessori education and regular day care facilities.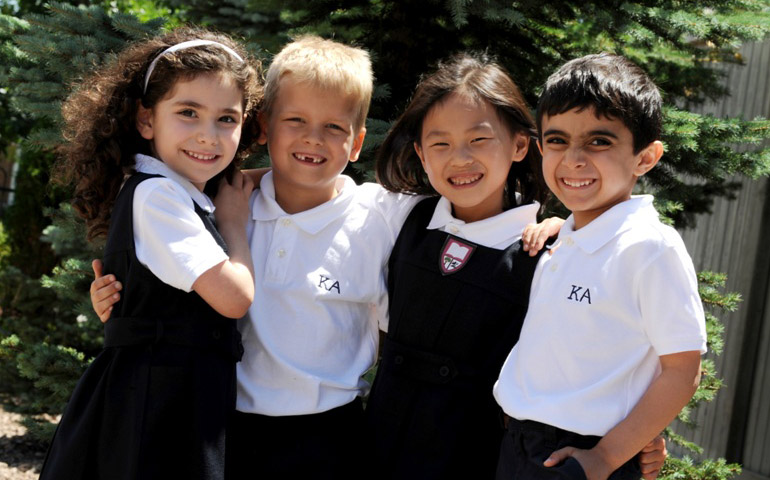 Though Montessori and regular daycare facilities meet the specific need of certain parents and their children, we felt, after much research and rumination, that a gap existed in the services offered for early childhood education and care. As parents, we thought seriously of home schooling our own children, but felt that a social environment with other children would enhance their world greatly, and allow us to pursue our professional obligations.
Since we had the educational and business backgrounds, and found plenty of friends with their own young children in similar situations, we decided to open our own school. We have visited and examined at least forty schools in the immediate Streetsville and Oakville areas in order to see conclusively that we are offering a unique and outstanding program for choosy parents, since we, ourselves, are choosy parents.
Our school is founded on a child-centered perspective of the world. Our attention is on the child learning as a child, avoiding the mistake made, more often than not, of moulding the child into a little adult. Children should be allowed to engage their imaginations and live in that coveted space of childhood as long as possible. Also, we firmly believe that every individual child has specific needs to his/her world. Our classrooms and school facility are structured in an organized, productive and welcoming manner in order to encourage each child's emotional, behavioural, social and physical growth. We have specifically chosen to operate small preschools, four classrooms at each preschool campus in Streetsville and Oakville, to create the unique sense of a familial and small community environment.
In addition, our classrooms are designed to convey a sense of coziness and warmth, while at the same time communicating a non-cluttered, educational setting. Our classroom colour and chosen décor has been strategically planned to encourage positive emotional responses. More importantly, we stress the dynamic, nurturing and professional nature of our teachers. Our educational team has been carefully selected to convey the practical and philosophical aspects of Kendellhurst. They are an incredible group of people who have also chosen us to commit their time, energy and enthusiasm for the education and caring of young children. Without a dedicated, hard working and child-centered staff, Kendellhurst would not open to meet the needs of your child. We believe that one cannot take enough time and effort in planning an environment where children spend a large proportion of their time. We hope that all of this careful thought and planning will increase the enjoyment and contentment of your, and our, children's day.