Introduction
Academic

Signature Programs

Policies

Our Facility

Additional Information
Policies and Procedures
Hours of Operation
We are open from 7:30 am to 6:00 pm, Monday to Friday. A full programming day begins at 8:45 am and ends at 3:45 pm. There is an extra charge for hours beyond regular programming. Before school care (7:30 am to 8:45 am) and after school care (3:45 pm to 6 pm) are also available. Morning supervision begins at 8:45 am. 8:30-8:45 am are set for student drop off and class arrival. 3:45 pm is set for student pick up.
Kendellhurst is closed on the following statutory days: New Year's Day, Family Day, Good Friday, Easter Monday, Victoria Day, Canada Day, Civic Holiday, Labour Day,Thanksgiving Day, Christmas Eve, Christmas Day, Boxing Day and New Year's Eve. We are also closed for 4 Professional Development (PD) days per school year.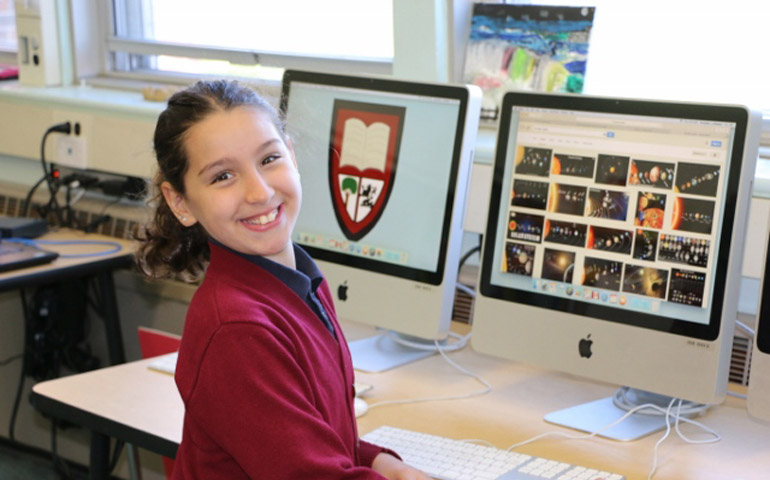 In addition, Kendellhurst Grade School (grades 1 to 8) is closed for Winter, March and Summer breaks. For your convenience, School Camps are offered during March and Summer breaks for grades 1 to 8. Kendellhurst Kindergarten Classes run as full year-round programs closing for Winter and March Breaks only. March Break Kindergarten camp available. There are no deductions in fees as school closings have been calculated into tuition rates. All breaks are noted in our annual school calendar available on-line and in our enrolment folder. Please contact our school to speak with a representative regarding fees information.
Nutrition
Kendellhurst offers a lunch and snack program for our students. Kendellhurst is happily catered since 2009 by Organic Kids Catering: www.organickidscatering.com. Our catering service exceeds the Canada Food Guide and the Ministry requirements for school age children. Organic Kids Catering serves a substantial morning and afternoon snack and a hot/cold lunch choice with milk and vegetables. We understand that children need the fuel to drive their imaginations! All snacks and meals are prepared by a chef and catered daily to our facility. Please note that Kendellhurst Academy strives to be a peanut safe environment. If your child requires a special diet due to medical or religious reasons, Organic Kids Catering can strive to accommodate him/her. Please inform our School Administrator and your child's assigned teacher if special arrangements are necessary. We also welcome and encourage parents to provide their own peanut safe meals and snacks. Striving to be environmentally friendly, Kendellhurst Academy encourages parents and children to have bag-less/litter-less lunches.
Health and Safety
Upon registration, enrollment and medical forms must be completed before your child attends school. It is imperative that all personal contact information be kept up-to-date. Included in this package is a form for all authorized individuals who may pick up your child from school property. If your child is absent from school, we ask that you notify the school as soon as possible so that we may confirm his or her absence.
Communicable Disease Exclusion Policy: Parents must inform the school immediately if their child contracts a communicable disease or any symptom of illness. According to Ministry of Health standards, the student/child will be excluded from school until it is deemed safe for him/her to be in contact with other children. Upon outbreak, parents will be notified by a posting on the Parent Bulletin Board, stating the disease, symptoms, precautionary measures, etc. Outbreak procedures will commence immediately.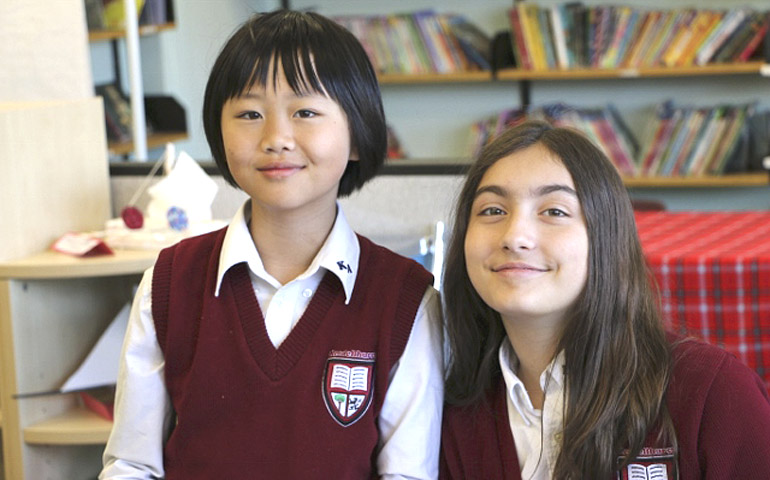 Inclement Weather/School Closure
If the school must be closed due to severe weather conditions, an announcement will be made on our school web site and voice mail by 7:00 am. Please check our News & Events page. It is a parent's responsibility to check the web site/voice mail for closure updates. We follow the Peel Board of Education's School Closure policy.
Medication
School staff will administer prescribed medications only if the medication is in its original container labeled with the student's name and accompanied by a physician's note. If symptoms do not clear and your child appears persistently ill, parents will be called immediately for child pick up. All drugs and medication must be accompanied by the school's "Request to Administer Drugs and Medication Parental Consent Form" filled out by the child's parent or legal guardian.
Clothing and Necessities
Kendellhurst Academy's uniform provider is Halpern's School Uniforms for both our formal and gym uniform. Please see our school uniform page for complete details. Students must attend school in seasonally appropriate attire. For the summer, we recommend closed toe shoes/runners, a sun hat, and don't forget the sun block. For the winter, we feel layering clothes is the most effective means of keeping your child happy. He/she can put on or take off garments depending on the weather conditions. We request that your child have skid-less, mark free, rubber soled black shoes for indoor activities. Shoes may be kept in his/her locker area. Students are required to wear running shoes for gym days and outdoor recess. A personal hairbrush or comb is necessary for any messy hairdos! Please label all items in your child's cubby clearly with your child's name. Thank you! Please do not place any toys in the cubby as this more often than not causes problems with lost toys. Thank you.
Professional Teachers
We have very selective hiring practices at our school. Each Kindergarten Classroom has an accredited RECE teacher and an OCT qualified teacher. Teachers in our grade school program have a bachelor degree, professional teaching experience, accreditation beyond their degree, as well as at least two years of experience with Kendellhurst Academy. In addition, all teachers must be committed to child care as their profession. We encourage and promote special additional certification or educational courses for our staff to keep them updated, fresh and energized for your child. All teachers have had a criminal reference check and have their CPR and first aid certification. Our hand-picked team has been chosen to uphold the values of critical/inquiry based thinking and democratic citizenship, the very core of our school philosophy.
Field Trips
Age appropriate field trips will be conducted throughout the year which may include the use of chartered transportation. All field trips will be posted in advance and explained to parents prior to departure. Parent volunteers are welcome to participate in field trips. If you choose for your child not to participate in any given field trip, parents must arrange for alternative child care. Field trips costs are not included in tuition fees, and are set at a nominal fee. We also offer a spring skating program included in tuition through Vic Johnston Arena located just a hop, skip and jump away from our school facility!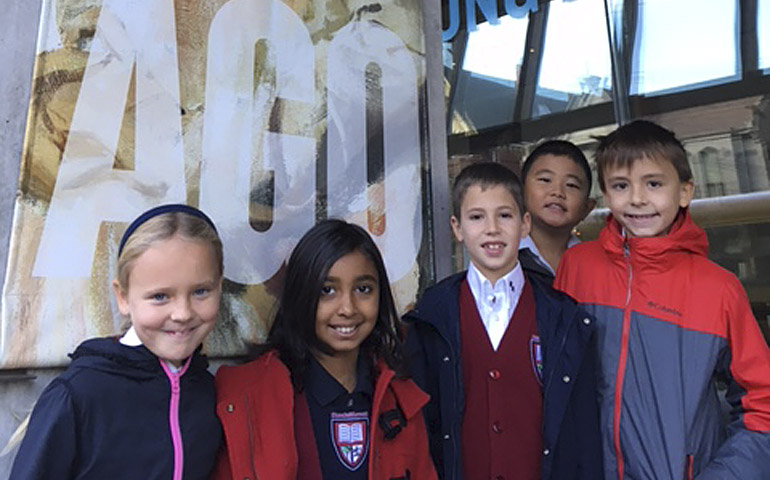 Calling all Parents!
Our school encourages parental involvement. We have an open door policy. Parents are welcome to set appointments with their child's teacher as they see fit. We also invite you, the parent, to visit classrooms, participate in field trips or attend our various events such as our annual barbeque and Parent Teacher Interview evenings. Though parent volunteers are welcome at our school events, they are subject to the same expectations and standards as our staff.
School Cleanliness
At Kendellhurst Academy, keeping our school clean to ensure the good health of your child and ours is extremely important. We use environmentally and child friendly disinfectants and cleaners approved by the Region of Peel Public Health. Our school has huge picture windows, tile flooring, a carpeted indoor meeting area in some classrooms, and bright, sunny classrooms all conducive to positive and healthy learning opportunities. Since illness may spread through interactive play and learning experiences, our care taker and house keeper regularly clean and maintain an exceptional level of cleanliness. This maximizes the health of the children and staff, by reducing exposure to germs and viruses. Though we cannot completely eliminate germs and viruses, we can do our absolute best to keep illness at bay. As a result, we expect our parent group to reciprocate this environmental concern by respecting the call of a teacher if a child has to be picked up early due to illness. Kendellhurst Academy has been designed by the choosy parent with high standards and expectations for the choosy parent with high standards and expectations. We welcome your input and strive for a school that sets industry standards.
Thank you for your interest in our school.
Paula Carrasco-Kendell, Hon. B.A., B. Ed., (OCT), M.A.T., M. Ed., School Owner-Director/Principal
Kendellhurst Academy © All Rights Reserved