Introduction
Academic

Signature Programs

Policies

Our Facility

Additional Information
About Us
Kendellhurst Academy is a private grade school founded by John Kendell and Paula Carrasco-Kendell. As parents, we wanted a warm, nurturing environment with attention to personal, academic excellence for our children. After experiences with both a local prestigious private school and highly rated public school (after our eldest child left our preschool division), we once again thought seriously of home schooling our children. Instead, after six years of great success with our two educationally based preschools and experience in the industry (and having many, many families ask us to open a private grade school), we dove right in! Since we have the educational and business backgrounds (Paula has two Master's degrees in Education), we decided to make a difference in the private grade school industry. We offer our families a small, boutique type school setting with attention to detail. From an organic content menu and yoga lessons to tailored academic and signature programs, we've created a superb setting for your child to flourish!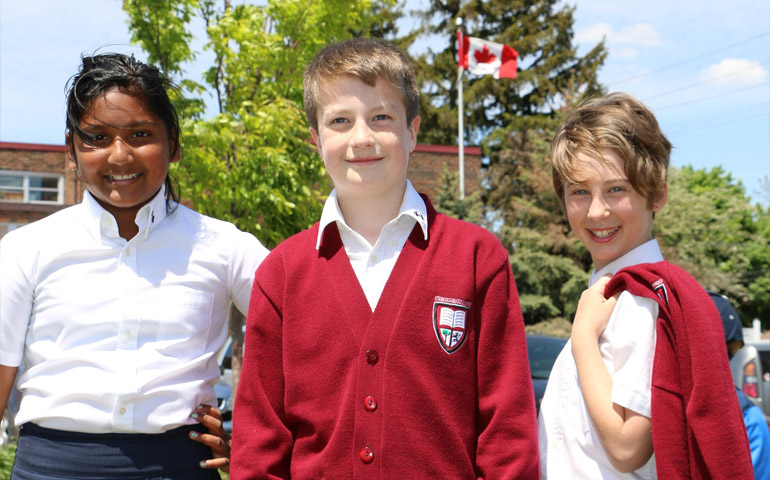 Our motto of nurturing the student's mind and spirit through creativity, intelligence and personal, academic excellence is central to everything we do. From curriculum development, staff selection and school pedagogy, this important thread is woven throughout Kendellhurst. We have visited and examined many of the private schools in the immediate Streetsville and Oakville areas in order to see conclusively that we are, indeed, offering a unique and outstanding program for choosy parents, since we are choosy parents. Our school is founded on a child-centered perspective of the world. We firmly believe that every individual child has specific needs to his/her world. Our classrooms, school facility and programs are designed in an organized, productive and nurturing manner in order to encourage each child's intellectual, emotional, behavioural, social and physical growth.
Through critical thinking strategies and democratic values, we have created an enriched, nurturing environment for your child to enjoy. Additionally, Kendellhurst Academy is a place where tradition meets the new age: creativity, intelligence and personal, academic excellence are fostered within a subject specific learning context (Language Arts and Vocabulary, Mathematics, Science and Environmental Studies, Daily French, Social Studies and Communications, Computers and Technology, The Arts (visual, music and dramatic – performance and dance) and Physical Education) with meaningful interdisciplinary connections. Moreover, we emphasize cooperative learning and a dynamic, fun environment where the kinesthetic needs of children are met throughout the day! Kendellhurst also offers a "community of families" environment to foster the important interpersonal connections outside the school context.
We have specifically chosen to operate a small grade school (seven classrooms with a maximum of 112 children) to encourage the unique sense of a familial and small community environment. This approach allows our team of teachers and administrators to foster the needs of each child within our school. Paula's doctoral work focuses on the Communities of Inquiry model of education, emphasizing the need for school responsibility in creating critically minded and responsible citizens. This way of being encourages leadership, cooperation and community. John's business background and interest in promoting environmental consciousness only adds to our Communities of Inquiry model of education. Our school is set in the Credit Valley, giving us opportunities to see, smell, hear, touch and engage in a real life, hands-on environmental curriculum.
Our classrooms are designed to convey a sense of coziness and warmth, while at the same time communicating a non-cluttered, educational setting. Our classroom colour and chosen décor have been strategically planned to encourage positive emotional responses. More importantly, we stress the dynamic, nurturing and professional nature of our teachers. Our educational team has been carefully selected to convey the practical and philosophical aspects of Kendellhurst. They are an incredible group of people who have chosen us to commit their time, energy and enthusiasm for the education and care of our children at Kendellhurst Academy. Without a dedicated, hard working and child-centered staff, Kendellhurst would not open to meet the needs of your child. Through professional development and teaching experience with us, our educators understand the nuances of our pedagogy and practice, and look forward to making a difference in your child's life. We believe that one cannot take enough time and effort in planning an environment where children spend a large proportion of their day. We know from experience that this careful thought and planning will increase the enjoyment and contentment of your, and our, children's day.
We look forward to providing you with a tour of Kendellhurst Academy, and answering any questions you may have about our school pedagogy, practice or facility. When you walk into Kendellhurst, you will notice and feel the difference!
Sincerely,
Paula Carrasco-Kendell, Hon. B.A., B. Ed., (OCT), M.A.T., M. Ed., School Owner-Director/Principal
John Kendell, Hon. B. Sc. Kendellhurst Academy Director and Co-Owner