Introduction
Academic

Signature Programs

Policies

Our Facility

Additional Information
School Uniform Policy
Kendellhurst Academy's school uniform supplier is the McCarthy's School Uniforms. Please visit their website at www.mccarthyuniforms.ca. After much research and thought, we chose the McCarthy's School Uniforms for their good price points, flexible return/exchange policy and quality wear and tear garments, on-line retail program, and ethical manufacturing policy.
Uniform pieces have the initials KA for Kendellhurst Academy on the left breast of the shirt or feature our school coat of arms and name. Students are required to attend school in full uniform and follow good grooming etiquette. Our uniform items include a crested cardigan, blazers (grades 6-8 only), vest, sweatshirt/pants, gym t-shirt and shorts, oxford shirt, and grey pant or navy blue walking short. For girls, we also have a crested tunic, navy blue skort, and kilt (kilt is for Kindergarten plus only).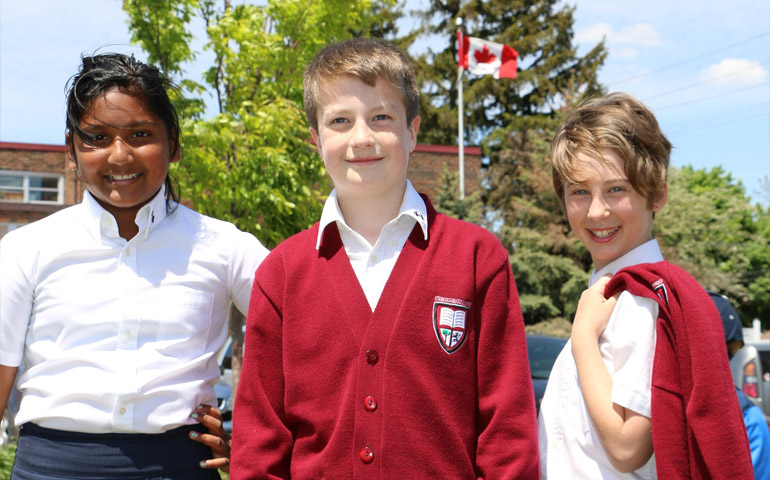 Items are available for sizing through the McCarthy's School Uniforms storefront in Oakville. Outdoor shoes must be closed toe and appropriately supportive. Indoor slippers for Preschool to Kindergarten must be rubber soled and appropriately supportive. Indoor shoes for Kindergarten to Grade 8 must be black, skid-less, mark-less and polish-able. It is a parent's responsibility to label all school/uniform items for identification. Thank you.
Upon completion of enrolment or entrance into a classroom with a uniform requirement, we ask that you take the time to visit the McCarthy's School Uniforms to have your child properly fitted for the uniform pieces. If you plan to have your child fitted, we recommend visiting their store by the end of June/July to ensure your order is ready before the beginning of September. As a parent who has experience with school uniforms, I can note the following bonuses:
Less problems in the morning for finding "the right" outfit.
Less money spent on wardrobe pieces, since I only bought three/four pieces of select item.
No problems matching pieces since uniforms take care of this issue.
Only one/two loads of laundry per week!
Quality garments with good wear and tear at reasonable prices.
An exceptional looking scholar!
If you have any questions regarding our School Uniform Policy, please see one of our School Administrators. Thank you in advance for your cooperation.
Sincerely,
Paula Carrasco-Kendell, Hon. B.A., B. Ed., (OCT), M.A.T., M. Ed., School Owner-Director/Principal
Kendellhurst Academy © All Rights Reserved